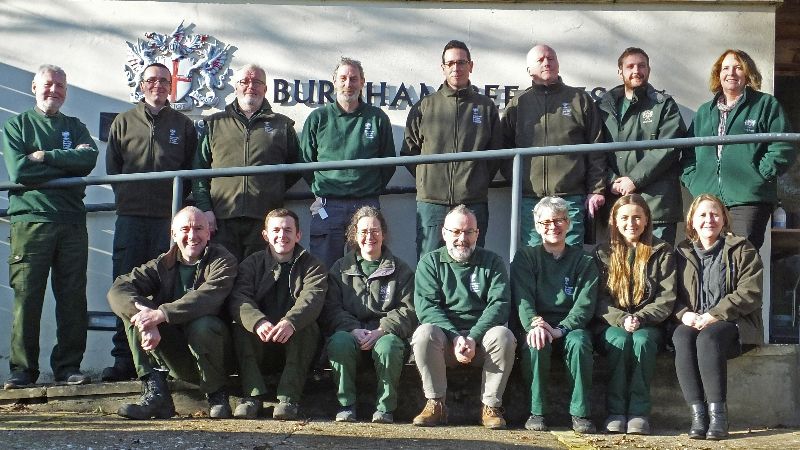 Welcome to the team!
We would like to introduce you to our two new Community Engagement Rangers, Jordan Payne and Kate Hartup. They are employed by The City of London Corporation, but funded by building developments within 5.6km of the Beeches in the Slough and Buckinghamshire area, as mitigation for the potential harm that it may cause to the Special Area of Conservation. These Rangers will be out and about on the Beeches, working to provide sustainable outcomes for the National Nature Reserve and highlighting the many other recreational opportunities that exist in the surrounding countryside.
After completing her BSc in Zoology and MSc in Ecology & Conservation, Jordan worked as a media and outreach intern for WWF Wales then as an environmental conservation officer for Groundwork Wales, helping disadvantaged individuals get out into nature to improve their mental wellbeing. Kate has been involved with conservation and countryside recreation for the last forty years, running Hertfordshire's countryside information service before working part-time as a design and content consultant for environmental organisations. She has been a volunteer at the Beeches since 2010 and her particular interests are education and inclusion. We hope you will all give them both a warm Burnham Beeches welcome when you see them around the reserve.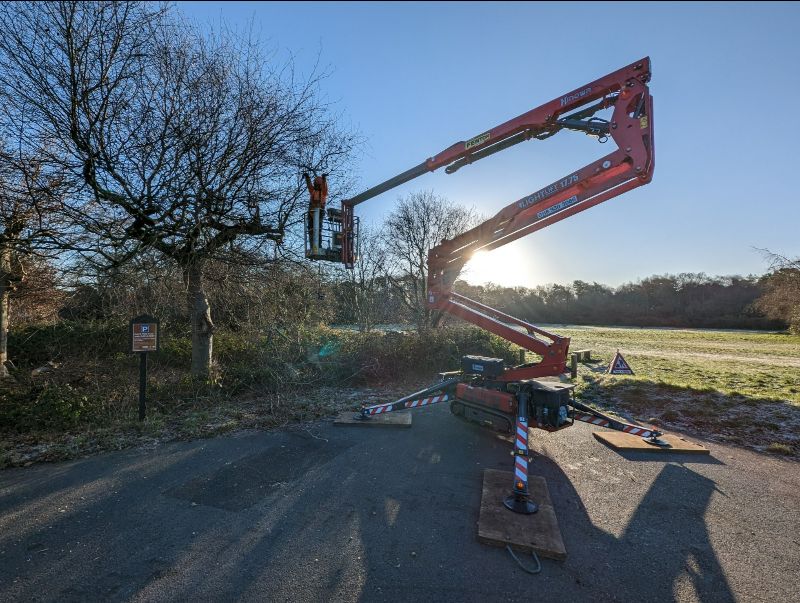 Young pollard work underway
The Ranger team have been out for the last few weeks on the Beeches cutting back the young pollards. This is an essential part of their continued management and reflects the way that historically, they would have been cut back. This method of pruning may look drastic to begin with, but rest assured they will regenerate new growth as the warmer months progress. When cutting back in this manner, it helps the trees to live much longer than they otherwise would – in some cases twice as long or more. It also creates an ideal habitat for birds, bats and invertebrates. Our ultimate aim is to create the ancient pollards of the future and maintain the high levels of biodiversity within the nature reserve. Please bear with us while we progress with this work over the next couple of weeks and we thank you for your understanding thus far.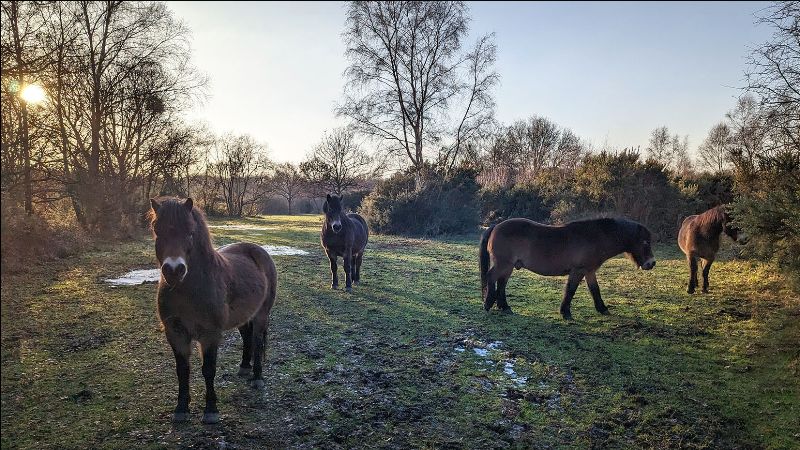 New ponies at Stoke Common
You will all be pleased to know that after a successful introduction to each other at Teikyo School in Wexham, all four of our ponies have now been transferred to their winter grazing patch on the west side of Stoke Common. They will remain there whilst there is plenty of vegetation for them to graze on. We monitor what they eat very carefully and will remove them when the conditions require it. As they have plenty to eat and because the area is a Site of Special Scientific Interest, we do not feed additional foodstuffs. Exmoor ponies evolved in wet and cold climates with rough hilly terrains; they are therefore very able to survive on rougher forage and their thick coats help them to fend off the cold. We have found evidence that they are being fed – this is potentially very bad for their health, teaches them bad habits and can be very damaging to the nature reserve. Please remember that they are not pets; do not feed or try to pet them.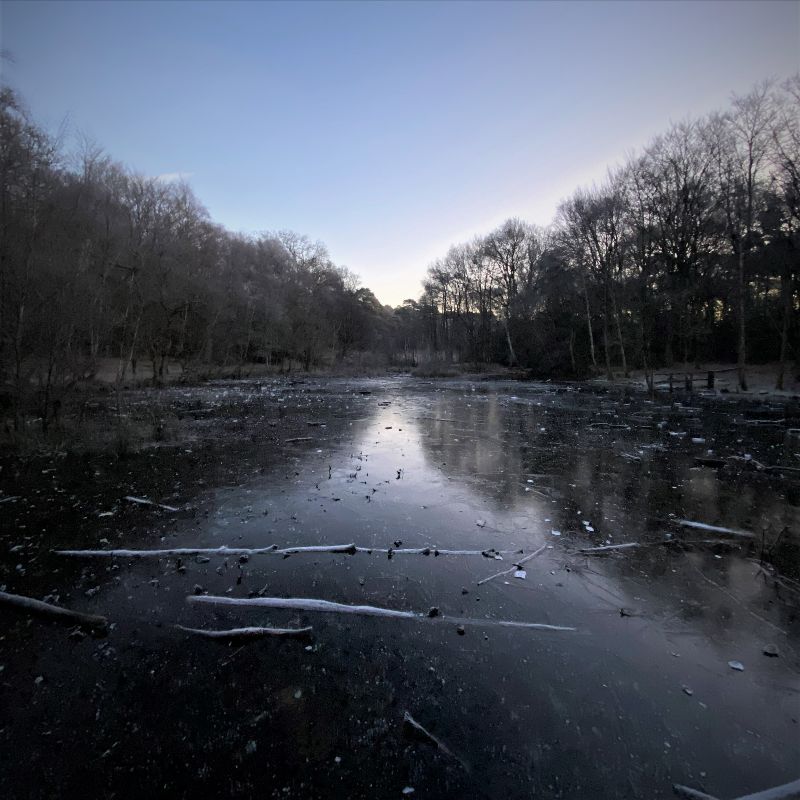 Please behave responsibility around the ponds
We had a recent report of an adult male, two children and their dog walking on one of the frozen ponds at Burnham Beeches, ignoring the multiple signs warning visitors to stay off the ice. PLEASE, DO NOT walk on frozen ponds – it is extremely dangerous, as was so tragically highlighted late last year. You are not only putting your life in danger but those of the people that may have to come and rescue you. If you are on the nature reserves and see anyone participating in or encouraging irresponsible behaviour, please call the office on 01753 647358 or our 24 hour out of hours number on 01372 279488 and we will try and get a Ranger there as soon as we can.
Volunteer update
At Burnham Beeches, the volunteers have continued to make good progress on the heath, working to clear space around the junipers. These plants are of significant interest, as despite an overall decline in Britain, they are progressing with natural regeneration on the Beeches. They also provide dense cover and a valuable food source for nesting birds and caterpillars.
The volunteers have persevered through the wet and cold conditions at Stoke Common to continue coppicing the young birch and pine trees. By cutting back areas on a rotation, the common has scrub of different ages which helps to provide a variety of habitats and increases diversity. Lowland heathland habitat is becoming increasingly rare in the UK, so the management work we do is vital to help stop the common reverting back to woodland. It will also have the benefit of reducing the risk of fires spreading out of control when the summer months arrive.
Needless to say, we are always happy to recruit new volunteers so if it is something you have been thinking about getting involved in, please get in touch here
Upcoming volunteer days and events
Burnham Beeches Volunteers
Every Thursday 9am – 3pm – please call or email the office to book on.

Next Friends of Stoke Common volunteer task:
Saturday 4 February – 10am – 3pm
Saturday 4 March – 10am – 3pm
please email the office to book on.

Next Burnham Beeches Sunday volunteer task:
Sunday 19 February – 10am – 3pm
please email the office to book on.

Simply walk
This walk is on the second Wednesday and third Sunday of each month. The next dates are Wednesday 8th February, Sunday 19th February and Wednesday 8th March 2023. Meet just outside the café area near the cycle rack at 10.45am on a Wednesday or 2.15pm on a Sunday to join us for a gentle stroll around the reserve.

Events and walks:

Woodland Explorers Half Term Trail
Saturday 11 to Sunday 19 February
Unleash the explorer in you with our half term trail and activity booklet. Aimed at explorers up to 12. Pick up your copy from the Info Point and guide yourself along the route. Suggested donation £2. Bring a pencil!
Meet the Ranger and the bugs and beasties
Sunday 5 March, 11am – 1pm
One of the Rangers will be near the café to answer any questions that you may have about this beautiful nature reserve