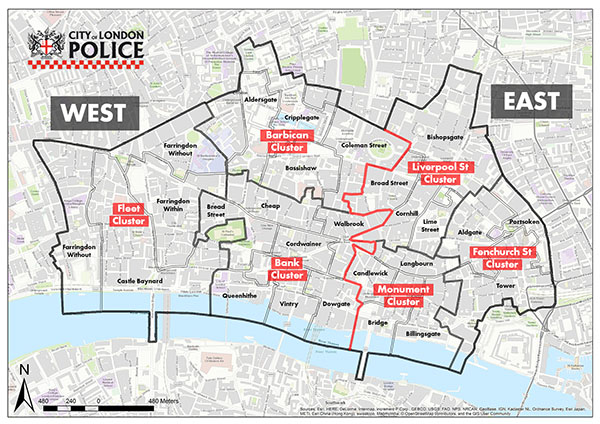 August has been an incredible busy month for City Police, as they have navigated 2 weeks of Extinction Rebellion protests. Thankfully, the City came out relatively unscathed and damage was repaired swiftly.
On the 5th of August, the Dedicated Ward Officers held an engagement session near to Tesco Bishopsgate as part of Operation Patella, showing a visible presence and preventing shop thefts. Crime prevention advice was also given with the important message of bike security.
On the 18th of August an Operation Luscombe hub at St. Botolph-Without-Bishopsgate Church took place. Those found begging were invited to the bi-weekly intervention hub attended by the local authority, homeless outreach team, substance misuse team and Park Guard. Those found persistently begging have received enforcement action with the aim of disrupting the begging activity, meaning they are not allowed in begging hotspots within London.

There have been 46 anti-social behaviour reports recorded during August. 12 linked to beggars and an additional 4 linked to homeless individuals. 5 reports linked to individuals refusing to get off a bus. Some were rough sleepers wanting shelter and others were causing a disturbance. 2 reports related to skateboarders, with groups congregating and causing a nuisance.
12 pedal cycle theft offences occurred considerably lower than last month's 22; April reported the highest month for this year so far with 26. Compared to the previous period, cycle theft has remained consistent. It is worth noting this is significantly lower than this time last year.
Shoplifting reports have decreased, with 23 reports in August compared to 67 in July. Levels are well below those seen previously at this time of year. June recorded the highest month for incidents at 72. The sudden decrease is possibly connected to the increased of Police presence in The City of London, both foot patrol and mobile due to the XR protests.
Reporting Local Issues:
There is a new Dedicated Ward Officer team at the City of London Police linked to the Liverpool Street area. You can contact them at DWO.LiverpoolStCluster@city-of-london.pnn.police.uk or follow this link: https://www.cityoflondon.police.uk/sectorpolicing